Healthiest Yogurts For Kids
Yogurt is a favorite food for many kids and for good reason. It's also a great way to get a lot of nutrition into your child - protein, calcium, Vitamin D, probiotics and more depending on the brand. The only problem is that many yogurts for kids have a lot of added sugar. While milk naturally contains sugar, which causes every yogurt to have some sugar, adding tons of extra sugar can detract from the other health benefits. I have no problem with a trade-off of a little sugar to make the food more palatable, but when a yogurt is more than half of the recommended sugar for the day, it's definitely not going to make the list of healthiest yogurts. Keep in mind that the recommendation for children 2 - 18 is to have less than 25 g of added sugar per day. While I think that number is kind of low and challenging in the environment we live in, trying to keep it as close to that number as possible is a good goal. These are some of the healthiest yogurt options for kids: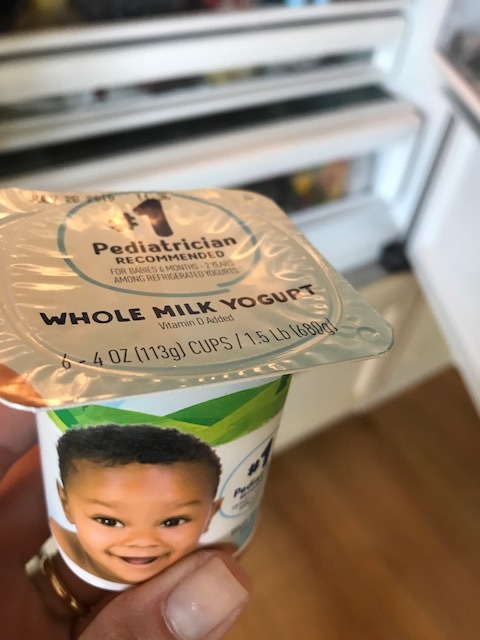 Not just for babies, this whole milk yogurt (banana/mango pack) has NO added sweeteners. At 5 grams sugar for 4 oz (all naturally coming from milk sugar), you can't go wrong. The plain also has only 5 grams sugar. Note that the other flavors have added sugar.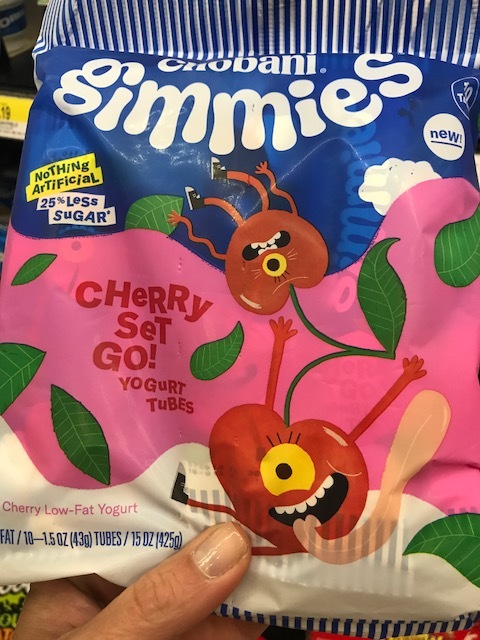 Chobani Gimmies Yogurt Tubes
With 4 g sugar in a 1.5 oz tube and yummy flavors like cherry set go and creamy orange dreamy, these are a great snack to pack with lunch.
Remember, not all yogurts from the same brand are equal. While I think the yogurt tubes are a great choice, the chobani gimmies cups like poppin' cotton candy is much higher in sugar.
HappyTot Whole Milk Organic Yogurt
Because these are sweetened with fruit purees, they are still sweet but without any added sugar. With 7- 8 grams sugar per yogurt, these are a good choice for kids. The only real downside is that they are not that easy to find.
Organic Valley Grassmilk Kids
The trend towards grass fed cows is not going away and for good reason. Research shows that dairy from cows fed grass, rather than grains, has healthier fats (like CLA) which has been linked to a lower level of many diseases. So, having grass-fed dairy products made just for kids is a win. These have a good ingredient list and 6 grams sugar per 2 oz tube. While this is slightly higher than some of the other tubes, the benefit of grass-feed definitely outweighs the slightly higher sugar in these.
Chobani Less Sugar Greek Yogurt Monterey Strawberry
Greek yogurt is a great way to get extra protein in your child's diet. This new version of Chobani is flavored with strawberries, has dramatically less sugar and no artificial flavors. At 9 grams sugar for 5+ oz, you can feel good about serving this to your child (remember, this is larger than many other yogurts listed here which is why it has more sugar)
Siggi's Low-fat Yogurt Tubes
One of my long-time faves, these have 5 grams sugar in a 2 oz tube. These have a nice, clean ingredient list with the second ingredient after milk is strawberries. These are also a great source of probiotics.
One of the best things Dannon has done is to make these kid favorite yogurts with organic ingredients. At 7 grams sugar per 3.1 oz drink, the sugar content is pretty comparable to most of the other yogurts listed here. And, these are definitely popular with kids making them a great way to get calcium, protein and Vitamin D. Make sure to look for the organic ones (which they now sell at Costco), since both organic and conventional are sold at different stores.
This post is not sponsored. These are my opinions on various kids yogurts. Have questions about a different yogurt brand? Message me on instagram @greengrownmeals.