Back to School Lunch Packing Made Simple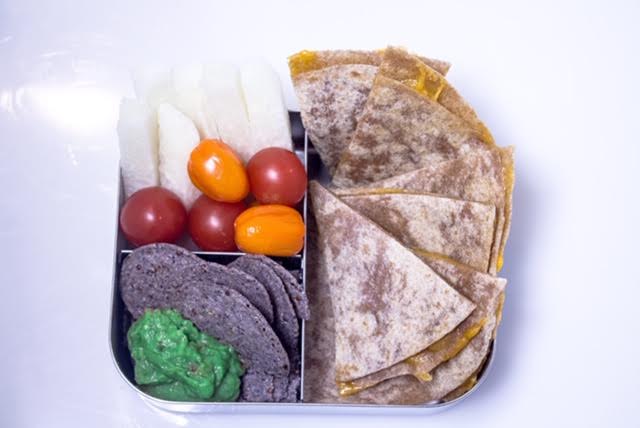 Cheese Quesadillas with jicama, tomatoes, black bean chips and guacamole
It's hard to believe it's that time for back to school. The summer always seems to fly by. As you are starting to think about packing lunch every day again (or maybe you have been packing all summer as well), I'm here to offer some healthy, kid-friendly lunch ideas. Some of these lunch ideas may be standbys, or twists on lunches you already pack but hopefully I can free you from some of the parent guilt that seems to come along with packing lunch. Consider investing in some good lunch containers such as Yumbox, Lunchbots or Omiebox. Having a container that keeps hot food hot and cold food cold can be the difference of whether your child actually eats his or her lunch.
It's hard to be creative with lunch all the time, so I like to have a loose schedule for lunch that lets me be creative when I feel like it, but also lazy when I don't (yes, we all feel lazy with packing lunch and it's OK).
Sample lunch schedule:
Monday: sandwich
Tuesday: leftovers
Wednesday: bagel
Thursday: pasta
Friday: breakfast for lunch or deconstructed lunch
When I am feeling like I have more energy to pack lunch, I might pack a bagel lunch like this: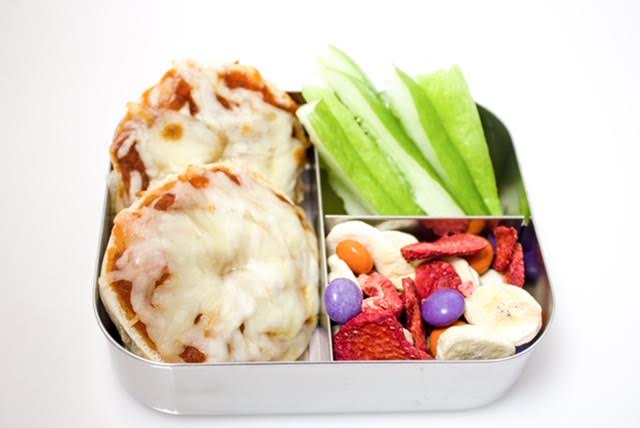 with cucumber spears, freeze dried bananas and strawberries with Little Secrets dark chocolate pieces
When I don't have the time (or my kids are begging for just a bagel), I might just pack a bagel with cream cheese. To try to offset that this isn't the most nutritious lunch, I load up on fruits and vegetables, and definitely pack a string cheese or hard boiled egg for some protein to keep them full until the end of the day.
I also want to dispel some myths about lunch and free you from parent guilt:
Even if a lunch is just a bunch of healthy foods, but not a "lunch item", it is still a healthy lunch. The deconstructed lunch is an especially popular lunch for younger children. It also works well when you are short on time or haven't had time to grocery shop and need to hodge podge a lunch.
Aim for a variety of food groups to provide your child all of the nutrition they need at lunch. Here are some ideas:
tortilla chips, guacamole, cheddar string cheese and cut up pepper strips and jicama
drinkable yogurt, cereal and sliced peaches
small roll, mozzarella string cheese, carrots and hummus
Everything doesn't have to be whole grain. I try to serve whole grains at least half of the time. So, I might serve whole wheat bread or a whole wheat tortilla for the sandwich, but white pasta a different day that week.

It's ok to send dessert. My kids, like most, like something sweet. So, I usually send a dessert. It can range from some sort of gummies to a cookie, fruit leather or chocolate (like the Little Secrets dark chocolates pictured above)

Buying lunch at school, even if it isn't the healthiest is also ok! If your child really wants to buy lunch at school because they have a friday fun lunch or cereal for lunch or they just want an ice cream sandwich, that is also ok sometimes. (Or, maybe it's because you just don't have time to make lunch that day). No one's diet is or should be "perfect". Kids who are allowed some freedom with food choices grow up to have a healthier relationship with food, their body and their weight.

Most kids in a family don't eat the exact same thing. That doesn't mean you need to pack everyone a completely different lunch. Encourage your kids to try new foods and to realize that every lunch is not going to be the perfect lunch.
Below are some more lunch ideas to give you inspiration as you start on another school year.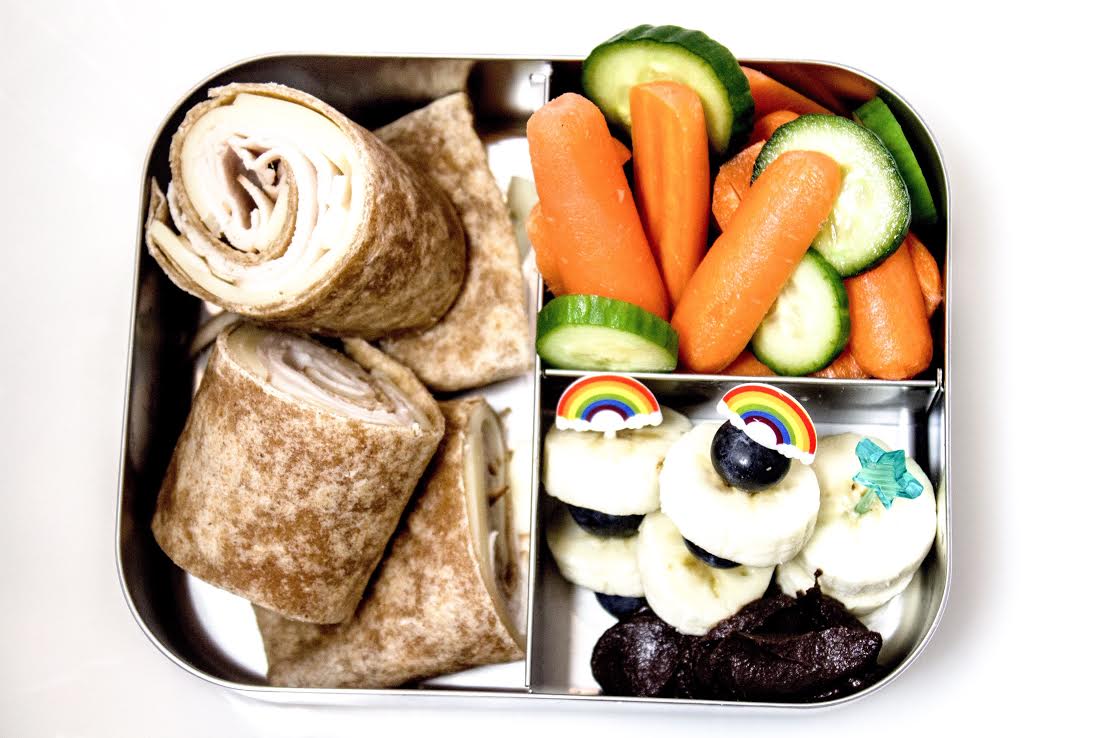 Turkey and cheese roll-up
with carrots, persian cucumbers, banana and blueberry toothpicks with Trader Joe's chocolate hummus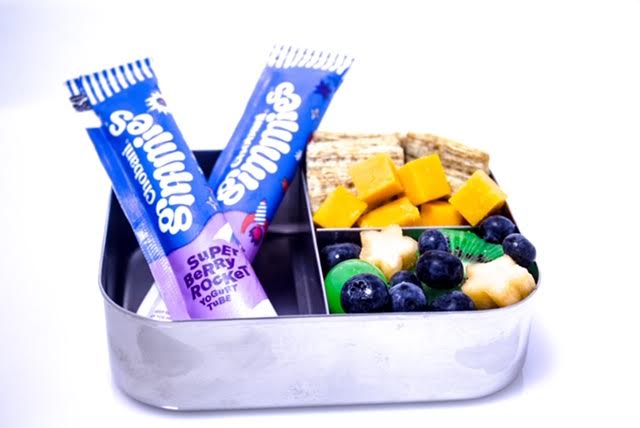 Chobani gimmies (yes 2 of them since they are small and this is lunch and not a snack), with Back to Nature Harvest whole wheat crackers, cheddar cheese cubes, kiwi, blueberries, grapes and cantaloupe stars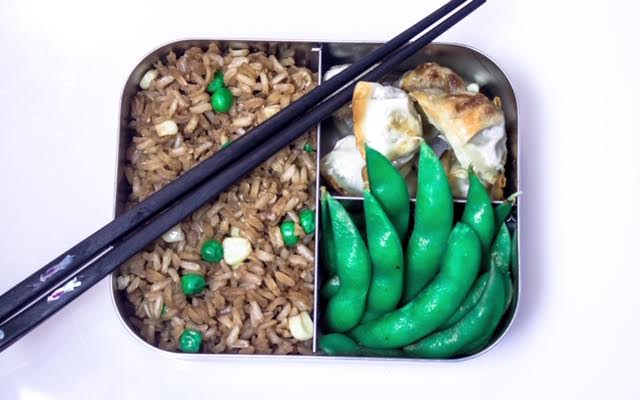 (made with brown rice, peas and corn), chicken wontons (you can buy frozen ones at Trader Joe's, Whole Foods, Costco), edamame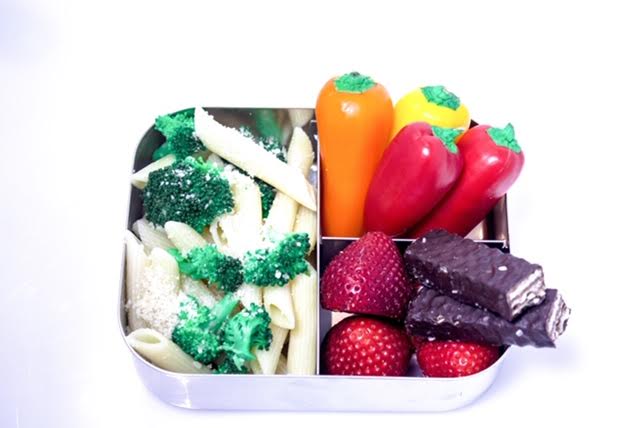 Pasta with Broccoli and Parmesan cheese
with mini bell peppers, strawberries and Little Secrets dark chocolate crispy wafer
A few other ideas:
sunbutter and raspberry preserve strips
bagel with hummus and cucumbers
mac 'n cheese cups
pasta with mini meatballs
chicken noodle soup and a roll
Van's mini pancakes with Chobani less sugar Greek yogurt
Happy lunch packing! If you get stuck for ideas in the middle of the school year, message me on instagram @greengrownmeals.